An American in Switzerland
The Life and Work of David Dusina, Basket Maker
(this is a work in progress - click on photos for details)
Meet David Dusina, who currently resides in Switzerland, but got his start on life and basketry in the U.S.A. His baskets are truly stunning.
David started basketry in 1979, under the tutelage of Ernistine Hanlon, of the Tlingit People, Dog Salmon Clan, Alaska, of whom he says: "Even though my basketry has evolved and refined itself through my time and effort, it was she who gave me the "seed." My basketry honors her as well." David is not from Alaska, but he lived there for a while--long enough for Ernistine to teach him a thing or two.
Regarding David's life in Alaska, he says: "I lived in Alaska over ten years. It has also been about the only place I go back to in the States. I owned 8 acres of land at the head of Excursion Inlet in S.E. Alaska. I built my cabin there and it was where I called "home." I lived without running water or electricity. I walked to the stream for water and used propane gas lights. Black bears were common and brown bears did cruise the area. Eagles were everywhere and my diet was trout, crabs, shrimp, and hallibut. Suffer I didn't."
Alaskan Interlude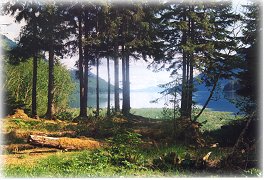 Click HERE to view photo collection.
David's designs certainly have a Native American quality about them. But, in his words: "[My] designs are ever changing. I am not of a tribe or "people." I have no past to guide or restrict my designs. I am free to pick and change designs. I don't copy designs but I do seek them out."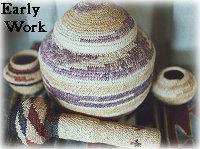 Basketry is a learning experience and we all have had humble beginnings. David describes the progression of some of his work this way: "The first is rough, about the fourth or fifth basket; the weave is very [crude]. The next two aren't much better. The last two baskets are the start of a better quality weave." Well, obviously, that's descriptive of some of his early work.
David's baskets are made with the fiber we all seem to love to hate: raffia. It is wrapped and stitched around a core using the closed coil technique; every stitch is 'stitched.' He does his own dyeing and prefers a brand available in Europe,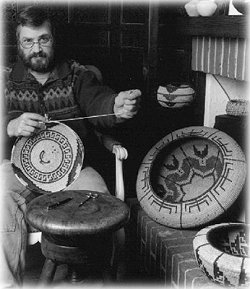 Eswacolor--weep and mourn if you live in U.S. In 1993, he began using a three rod core instead of a bundled core and found this produced crisper, more precise designs. The difference is very noticeable in the photographs.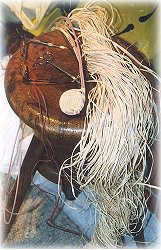 David uses 2.4mm or 3mm round reed for his core material, stacked in a triangle. He does not soak the reed, as this could cause color bleeding of the raffia. His starts are purely raffia--core and binder. "The start is bundle coiled raffia--nothing but raffia. How thick the coil is at the beginning is determined by how much raffia is tied into the initial knot. It is then thickened or thinned by adding or cutting off strands of raffia. Getting started is the most difficult part to teach--or learn. To push the needle through isn't as easy as one might think. It is the one part that most amazes people. It's hard and over time the thumb, index finger and tip of the middle finger have thickened (almost 1/8th inch more than the opposite hand)." Three Rod Start.

bas
Copyright 2002 by David Dusina. All rights reserved.